This wiki is currently a work in progress. You may find a lot of uncreated articles, missing files, links etc. We will work on it as fast as we could. If you have any problems or questions, don't hesitate to approach our team of Administrators for help and guidance!
This wiki has also been fully adapted to the Fandomdesktop layout
Welcome to the Pretty Series Wiki!
Welcome to the Pretty Series Wiki, dedicated to Takara Tomy and syn-sophia's game, toy and anime series franchise.
174 Articles | 360 Files | 1,648 Edits | 3 Active Users
since its creation on December 14, 2020
"PriMagi" is a form of entertainment created by singing, dancing and fashion! There's a secret to this magical, sparkling stage! Yes, seriously, it really is "magic"!

The main character, Hibino Matsuri, is a first year junior high school student who yearns to do "PriMagi". One day, she is scouted to join "PriMagi" by the wizard "Miyam", who suddenly appears!!

The two of them work together to be at the top of "PriMagi", so they don't lose to their rivals!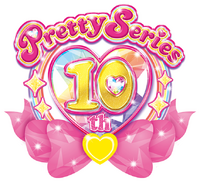 Pretty All Friends Selection (Sundays at 10am)
Welcome to Pri☆Chan Land! Live (August 22)
PriPara Friendship Autumn Live 2021 (September 25)
Characters
Casts
July 17
70px July 19
Waccha PriMagi!